Beschreibung
Songs aus 50 Jahren: die Mannthology
Nachdem er in den 1960er-Jahren mit seiner Band »Manfred Mann« große Bekanntheit erlangte, gründete der südafrikanische Keyboarder Manfred Mann 1971 zusammen mit Bassist Colin Pattenden, Schlagzeuger Chris Slade und Gitarrist Mick Rogers die »Manfred Mann's Earth Band«, sein mit Abstand erfolgreichstes Projekt. Ihr Stil bewegte sich im Laufe der Jahre von Blues- und Jazzrock über Progressive Rock bis hin zu Mainstream-Rock und Pop.
2021 wagt Manfred Mann's Earth Band einen Rückblick. Im Fokus der Betrachtung steht ihr umfangreicher Katalog.
Zum Jubiläum haben sie 50 Songs daraus ausgewählt und auf dem bislang umfangreichsten Best-of-Album ihrer Karriere versammelt: »Mannthology« lautet der Titel der 3-CDs-Box, eine kreative Wortneuschöpfung aus dem Bandnamen und dem Begriff »Anthology«. »50 Years Of Manfred Mann's Earth Band 1971–2021« lautet der erklärende Zusatz.
Mit dabei sind demnach Songs aus den letzten 50 Jahren, von ihrem Debütalbum »Manfred Mann's Earth Band« aus dem Jahr 1972 bis heute. Aber, neben Hits und Klassikern wie »Living Without You«, »Joybringer«, der Nummer-eins-Single »Blinded By The Light«, »Davy's On The Road Again«, »Don't Kill It Carol«, »Runner« und vielen mehr warten in der »Mannthology« auch einige Raritäten. Dazu gehören zum Beispiel seltene und unveröffentlichte Aufnahmen, Livesongs und Promo-Singles.
»Mannthology – 50 Years Of Manfred Mann's Earth Band 1971–2021« kommt als Set mit 50 Tracks auf drei CDs im Digipak inklusive eines 28-seitigen Booklets mit Infos zur Bandgeschichte, Fotos und Track Notes. Zudem gibt es eine Deluxe-Edition mit 66 Tracks auf vier CDs, zwei DVDs und einem Buch. Das jeweilige Tracklisting finden Sie im Folgenden.
Die Deluxe-Box im Überblick:
Vier CDs mit Hits und Raritäten, zum Teil unveröffentlicht und zum ersten Mal auf CD
Eine DVD »Live At Baloise Session« vom 31. Okober 2017
Eine DVD »The Story of Manfred Mann's Earth Band«
Ein 100-seitiges Buch (30 × 30 cm) mit umfassender Biografie und vielen Bandfotos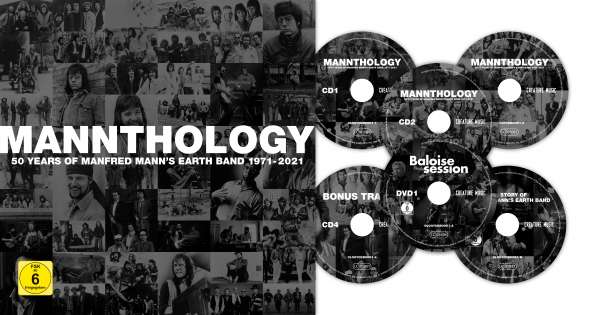 Tracks:
Disk 1 von 7
1 Blinded By The Light (UK 7'' Single)
2 For You (UK 7'' Single)
3 Ashes To The Wind (Unreleased Single Version)
4 Third World Service (German Single – first time on CD)
5 California (UK 7'' Single)
6 It's All Over Now, Baby Blue (US 7'' Single – first time on CD)
7 I'm Up And I'm Leaving
8 Summer In The City
9 Pleasure And Pain (European CD Single)
10 Get Your Rocks Off (7'' Version)
11 Going Underground (7'' Version)
12 I (Who Have Nothing)
13 You Angel You (UK 7'' Single)
14 Meat (UK EP Promo Version)
15 Man In Jam
16 Be Not Too Hard (UK 7'' Single)
17 Davy's On The Road Again (UK 7'' Single)
Disk 2 von 7
1 Joybringer (UK 7'' Single – first time on CD)
2 Mardi Gras Day (US Promo Single – first time on CD)
3 Demons & Dragons (Single Edit – first time on CD)
4 Geronimo's Cadillac (UK 7'' Single)
5 Father Of Day, Father Of Night (UK 7'' Single – first time on CD)
6 Mighty Quinn (from 'Mann Alive')
7 Rebel (7'' Version)
8 Spirits In The Night (US 7'' Single)
9 A Fool I Am
10 Questions
11 Angels At My Gate (Norwegian Single – first time on CD)
12 Tribal Statistics
13 Living Without You
14 Nothing Ever Happens (Radio Mix)
15 Wardream
16 Demolition Man (UK 7'' Single)
17 Don't Kill It Carol (UK 7'' Single)
Disk 3 von 7
1 Spirits In The Night (Extended US 7'' Single – first time on CD)
2 Ned Kelly (Unreleased B-Side)
3 Who Are The Mystery Kids (Norwegian Single – first time on CD)
4 Sikelele I (7'' Version)
5 Mrs Henry (UK 7'' Single)
6 Medicine Song (Remix)
7 Eyes of Nostradamus (7'' Version)
8 Do Anything You Wanna Do (7'' Version)
9 Holiday's End
10 Tumbling Ball (Radio Mix)
11 Lies (Through The 80s) (UK 7'' Single)
12 Footprints (En Aranjuez Con Tu Amor)
13 Redemption Song (UK 7'' Single)
14 Runner (UK 7'' Single)
15 Davy's On The Road Again ('Budapest Live') (UK 7'' Single)
16 Mighty Quinn (UK 7'' Single)
Disk 4 von 7
1 California Coastline (Unreleased US Single – first time on CD)
2 Pleasure And Pain (Radio Mix)
3 Eyes Of Nostradamus (12'' Version)
4 Cloudy Eyes (US B-Side – first time on CD)
5 Runner (12'' US LP-Version)
6 Nothing Ever Happens (TV Mix)
7 Going Underground (12'' Version – first time on CD)
8 Geronimo's Cadillac (Extended German 12'' Version)
9 Two Friends (from Mars & Saturn)
10 Sikelele I (12'' Version)
11 Pleasure And Pain (Alternative Mix)
12 Tribute (Unfaded B-Side – first time on CD)
13 Tumbling Ball (Alternative Version)
14 Please Mrs Henry (US 7'' Single – first time on CD)
15 All Through The Night
16 Do Anything You Wanna Do (Alternate 12'' Version – first time on CD)
Disk 5 von 7
1 Live At Baloise Session 31/10/2017: Captain Bobby Stout
2 You Angel You
3 Martha's Madman
4 Stronger Than Me
5 Father Of Day, Father of Night
6 For You
7 Blinded By The Light
8 Davy's On The Road Again
9 Mighty Quinn
Disk 6 von 7
1 The Story of Manfred Mann's Earth Band (FSK 6)
2 Neue Doku mit Interviews, Video-Ausschnitten und Kommentaren (1:43:40 Spielzeit)