Beschreibung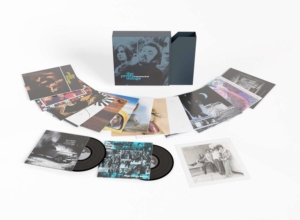 Madfish ist stolz darauf, zum ersten Mal die kompletten Studioalben von The Pretty Things in einem Set zu präsentieren. Von den chaotischen Anfängen der Band auf ihrem selbstbetitelten Debüt aus dem Jahr 1965 bis hin zu ihrem reflektierteren Schaffen in »Bare As Bone, Bright As Blood« enthält diese Box mit 13 Alben alles.
Unter der Leitung von Sänger und Gitarrist Phil May und Dick Taylor schufen die Pretty Things, die Kulthelden der ersten Welle des R&B, einige der aufregendsten und innovativsten Platten der sechziger und frühen siebziger Jahre und darüber hinaus. Die Pretty Things, die mit dem ersten Mojo Hero Award ausgezeichnet wurden, waren ein großer Erfolg und hatten großen Einfluss auf so unterschiedliche Künstler wie David Bowie, Aerosmith, The Ramones, Bob Dylan, The Sex Pistols, The White Stripes, Kasabian und viele, viele mehr.
The Pretty Things waren für die Entwicklung der britischen Musik von unschätzbarem Wert und wurden von Kritikern gefeiert, die ihr unverschämtes Verhalten, ihre glühenden Bühnenauftritte und ihren erstaunlichen Katalog bemerkenswerter, bahnbrechender Aufnahmen als grundlegend für die Entstehung ihrer eigenen Werke ansehen. Dieses Set, das bis zum Tod von Phil May vor zwei Jahren aufgenommen wurde, verfolgt die Reise der Band bis zu den letzten Aufnahmen im Jahr 2020.
Alle Alben wurden speziell für Vinyl neu gemastert und das Original-Artwork wurde komplett neu gestaltet. Zu jedem Album gibt es ein individuelles, albenspezifisches 4-seitiges Insert mit seltenen Fotos und originalen Single-Hüllen mit Texten von Mike Stax, Dick Taylor und Mark St. John. Außerdem finden die Fans einen exklusiven Druck der Band in ihren besten Zeiten zum Herausziehen. All dies ist in einer Deluxe-Box im Schuberformat untergebracht.
The Complete Studio Albums: 1965 – 2020:
1. The Pretty Things (1965)
2. Get The Picture? (1965)
3. Emotions (1967)
4. S. F. Sorrow (1968)
5. Parachute (1970)
6. Freeway Madness (1972)
7. Silk Torpedo (1974)
8. Savage Eye (1976)
9. Cross Talk (1980)
10. … Rage Before Beauty (1999) + Bonus 10″
11. Balboa Island (2007) + Bonus 10″
12. The Sweet Pretty Things (Are In Bed Now, of Course…) (2015)
13. Bare as Bone, Bright as Blood (2020)
Rezensionen
»Die Pretty Things waren der größte Einfluss auf uns.​.​.​ sie haben die Garagenbands erfunden.​« (Joey Ramone)
»Die Pretty Things haben mir den Kopf verdreht.​« (Noel Gallagher)
»Die Pretty Things ließen die Stones zahm aussehen.​« (David Gilmour)
–
Tracks:
LP1
1 Side A: Road Runner
2 Judgement Day
3 13 Chester Street
4 Big City
5 Unknown Blues
6 Mama, Keep Your Big Mouth Shut
7 Side B: Honey, I Need
8 Oh Baby Doll
9 She`s Fine She`s Mine
10 Don`t Lie To Me
11 The Moon Is Rising
12 Pretty Thing
LP2
1 Side A: You Don`t Believe Me
2 Buzz The Jerk
3 Get The Picture?
4 Can`t Stand The Pain
5 Rainin` In My Heart
6 We`ll Play House
7 Side B: You`ll Never Do It Baby
8 I Had A Dream
9 I Want Your Love
10 London Town
11 Cry To Me
12 Gonna Find Me A Substitute
LP3
1 Side A: Death Of A Socialite
2 Children
3 The Sun
4 There Will Never Be Another Day
5 House Of Ten
6 Out In The Night
7 Side B: One Long Glance
8 Growing In My Mind
9 Photographer
10 Bright Lights Of The City
11 Tripping
12 My Time
LP4
1 Side A: S.F. Sorrow Is Born
2 Bracelets
3 She Says Good Morning
4 Private Sorrow
5 Balloon Burning
6 Death
7 Side B: Baron Saturday
8 The Journey
9 I See You
10 Well Of Destiny
11 Trust
12 Old Man Going
13 Loneliest Person
LP5
1 Side A: Scene One
2 The Good Mr. Square
3 She Was Tall, She Was High
4 In The Square
5 The Letter
6 Rain
7 Miss Fay Regrets
8 Cries From The Midnight Circus
9 Side B: Grass
10 Sickle Clowns
11 She`s A Lover
12 What`s The Use
13 Parachute
LP6
1 Side A: Love Is Good
2 Havana Bound
3 Peter
4 Rip Off Train
5 Over The Moon
6 Side B: Religion`s Dead
7 Country Road
8 Allnight Sailor
9 Onion Soup
10 Another Bowl?
LP7
1 Side A: Dream
2 Joey
3 Maybe You Tried
4 Atlanta
5 L. A. N. T. A.
6 Is It Only Love
7 Side B: Come Home Momma
8 Bridge Of God
9 Singapore Silk Torpedo
10 Belfast Cowboys
LP8
1 Side A: Under The Volcano
2 My Song
3 Sad Eye
4 Remember That Boy
5 Side B: It Isn`t Rock`n`Roll
6 I`m Keeping
7 It`s Been So Long
8 Drowned Man
9 Theme For Michelle
LP9
1 Side A: I`m Calling
2 Edge Of The Night
3 Sea Of Blue
4 Lost That Girl
5 Bitter End
6 Side B: Office Love
7 Falling Again
8 It`s So Hard
9 She Don`t
10 No Future
LP10
1 Side A: Passion Of Love
2 Vivian Prince
3 Everlasting Flame
4 Love Keeps Hanging On
5 Side B: Eve Of Destruction
6 Not Givin` In
7 Pure Cold Stone
8 Blue Turns To Red
9 Goodbye, Goodbye
10 Goin` Downhill
LP11
1 Side A: The Beat Goes On
2 Buried Alive
3 Livin` in My Skin
4 (Blues For) Robert Johnson
5 Side B: All Light Up
6 Pretty Beat
7 Mimi
8 The Ballad Of Hollis Brown
9 Feel Like Goin` Home
LP12
1 Side A: The Same Sun
2 And I Do
3 Renaissance Fair
4 You Took Me By Surprise
5 Dark Days
6 Side B: Turn My Head
7 Greenwood Tree
8 Hell, Here And Nowhere
9 In The Soukh
10 Dirty Song
LP13
1 Side A: Can`t Be Satisfied
2 Come Into My Kitchen
3 Ain`t No Grave
4 Faultline
5 Redemption Day
6 Side B: The Devil Had A Hold Of Me
7 Bright As Blood
8 Love In Vain
9 Black Girl
10 To Build A Wall
11 Another World
Single 10″
1 Side C: Play With Fire
2 Fly Away
3 Side D: Mony Mony
4 God Give Me The Strength (To Carry On)
Single 10″
1 Side C: In The Beginning
2 Dearly Beloved
3 Side D: Freedom Song
4 Balboa Island