Beschreibung
Ein legendäres Ereignis in der unglaublichen 60-jährigen Geschichte der Rolling Stones wird zum ersten Mal in voller Länge veröffentlicht.
»Live At The El Mocambo« markiert die erste offizielle Veröffentlichung der beiden berühmten Geheimkonzerte der Gruppe in dem 300 Personen fassenden Club in Toronto im März 1977.
Enthalten ist das komplette Set der Stones vom 5. März sowie drei Bonustracks vom 4. März, die von Bob Clearmountain neu abgemischt wurden. Nur vier der Auftritte fanden ihren Weg auf das Album »Love You Live«, das im September 1977 folgte, auf dem vor allem Aufnahmen von den Tourneen 1975 und 1976 zu hören waren, während das komplette Set noch nie zuvor zu hören war.
Als die Stones die Bühne des »El Mo« betraten, das seit den 1940er Jahren ein fester Bestandteil der Musikszene Torontos ist, waren Punk und Disco bereits in vollem Gange. Sie waren wohl bereit, eine Band zu verabschieden, die bereits seit 15 Jahren an der Spitze ihres Spiels stand. An zwei Abenden, in einem intimen Rahmen in einer ihrer Lieblingsstädte, sollten sie diese Prognose in der Tat töricht aussehen lassen.
Die Auftritte wurden Wirklichkeit, nachdem das El Mocambo als potenzieller Ort für ein geheimes Booking ausgemacht worden war. Im Rahmen eines Radiowettbewerbs wurden Eintrittskarten für die kanadischen Rockhelden April Wine verlost, die von einer unbekannten Band namens The Cockroaches unterstützt wurden.
Raten Sie mal, wer das sein sollte…
An den Abenden waren April Wine natürlich selbst die Vorgruppe, und so kam es, dass die Stones die Jahre zurückdrehten zu der aufregenden Club-Inkarnation ihrer frühen Jahre. Allen Widrigkeiten zum Trotz produzierte die Band zwei Abende mit berauschender Musik, über die man in Toronto und in der Rolling-Stones-Legende bis heute spricht.
Es war eine Setlist für alle Jahreszeiten, von Muddy Waters' ›Mannish Boy‹ und Bo Diddleys ›Crackin‹ Up' bis zu Klassikern wie ›Let's Spend The Night Together‹ und ›Tumbling Dice‹ und zurück zum Blues mit Big Maceos »Worried Life Blues« und Willie Dixons »Little Red Rooster«.
Es gab das Live-Debüt von »Worried About You«, das in Studioform erst 1981 auf »Tattoo You« zu hören war, und weitere Highlights von »Honky Tonk Woman« bis »Hot Stuff«.
Fünfundvierzig Jahre später ist dies eine Reise zurück zur Intensität des Crawdaddy Clubs in den frühesten Tagen der Stones, wie sie von der größten Rock'n'Roll-Band der Welt wiedererlebt wurde.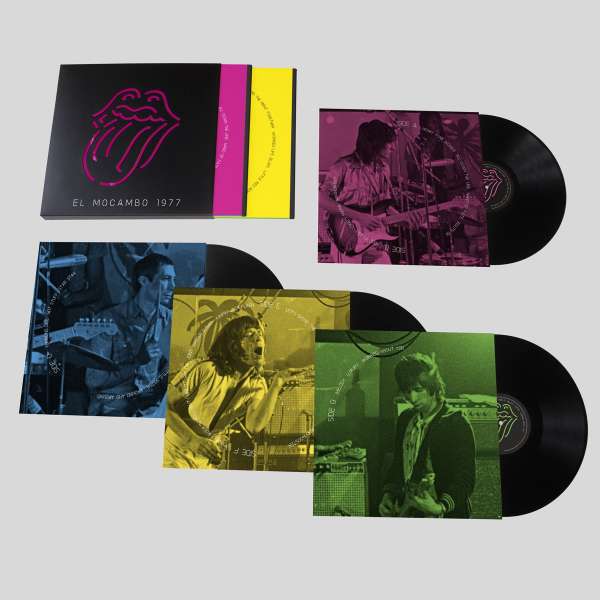 Tracks:
1.1

Richards, Keith




Watts, Charlie




Preston, Billy




Brown, Ollie


The Rolling Stones


Wyman, Bill




Stewart, Ian




Jagger, Mick




Wood, Ronnie

Honky Tonk Women (Live At The El Mocambo Tavern, Toronto / 1977)
00:03:37
1.2

Richards, Keith




Watts, Charlie




Preston, Billy




Brown, Ollie


The Rolling Stones


Wyman, Bill




Stewart, Ian




Jagger, Mick




Wood, Ronnie

All Down The Line (Live At The El Mocambo Tavern, Toronto / 1977 / Vinyl Only)
00:03:52
1.3

Richards, Keith




Watts, Charlie




Preston, Billy




Brown, Ollie


The Rolling Stones


Wyman, Bill




Stewart, Ian




Jagger, Mick




Wood, Ronnie

Hand Of Fate (Live At The El Mocambo Tavern, Toronto / 1977 / Vinyl Only)
00:04:05
1.4

Richards, Keith




Watts, Charlie




Preston, Billy




Brown, Ollie


The Rolling Stones


Wyman, Bill




Stewart, Ian




Jagger, Mick




Wood, Ronnie

Route 66 (Live At The El Mocambo Tavern, Toronto / 1977)
00:03:14
1.5

Richards, Keith




Watts, Charlie




Preston, Billy




Brown, Ollie


The Rolling Stones


Wyman, Bill




Stewart, Ian




Jagger, Mick




Wood, Ronnie

Fool To Cry (Live At The El Mocambo Tavern, Toronto / 1977)
00:04:57
1.6

Richards, Keith




Watts, Charlie




Preston, Billy




Brown, Ollie


The Rolling Stones


Wyman, Bill




Stewart, Ian




Jagger, Mick




Wood, Ronnie

Crazy Mama (Live At The El Mocambo Tavern, Toronto / 1977 / Vinyl Only)
00:04:48
1.7

Richards, Keith




Watts, Charlie




Preston, Billy




Brown, Ollie


The Rolling Stones


Wyman, Bill




Stewart, Ian




Jagger, Mick




Wood, Ronnie

Mannish Boy (Live At The El Mocambo Tavern, Toronto / 1977 / Vinyl Only)
00:07:02
2.1

Richards, Keith




Watts, Charlie




Preston, Billy




Brown, Ollie


The Rolling Stones


Wyman, Bill




Stewart, Ian




Jagger, Mick




Wood, Ronnie

Crackin' Up (Live At The El Mocambo Tavern, Toronto / 1977 / Vinyl Only)
00:05:12
2.2

Richards, Keith




Watts, Charlie




Preston, Billy




Brown, Ollie


The Rolling Stones


Wyman, Bill




Stewart, Ian




Jagger, Mick




Wood, Ronnie

Dance Little Sister (Live At The El Mocambo Tavern, Toronto / 1977 / Vinyl Only)
00:04:30
2.3

Richards, Keith




Watts, Charlie




Preston, Billy




Brown, Ollie


The Rolling Stones


Wyman, Bill




Stewart, Ian




Jagger, Mick




Wood, Ronnie

Around And Around (Live At The El Mocambo Tavern, Toronto / 1977 / Vinyl Only)
00:03:40
2.4

Richards, Keith




Watts, Charlie




Preston, Billy




Brown, Ollie


The Rolling Stones


Wyman, Bill




Stewart, Ian




Jagger, Mick




Wood, Ronnie

Tumbling Dice (Live At The El Mocambo Tavern, Toronto / 1977)
00:04:32
2.5

Richards, Keith




Watts, Charlie




Preston, Billy




Brown, Ollie


The Rolling Stones


Wyman, Bill




Stewart, Ian




Jagger, Mick




Wood, Ronnie

Hot Stuff (Live At The El Mocambo Tavern, Toronto / 1977 / Vinyl Only)
00:05:30
2.6

Richards, Keith




Watts, Charlie




Preston, Billy




Brown, Ollie


The Rolling Stones


Wyman, Bill




Stewart, Ian




Jagger, Mick




Wood, Ronnie

Star Star (Live At The El Mocambo Tavern, Toronto / 1977 / Vinyl Only)
00:04:10
3.1

Richards, Keith




Watts, Charlie




Preston, Billy




Brown, Ollie


The Rolling Stones


Wyman, Bill




Stewart, Ian




Jagger, Mick




Wood, Ronnie

Let's Spend The Night Together (Live At The El Mocambo Tavern, Toronto / 1977 / Vinyl Only)
00:03:45
3.2

Richards, Keith




Watts, Charlie




Preston, Billy




Brown, Ollie


The Rolling Stones


Wyman, Bill




Stewart, Ian




Jagger, Mick




Wood, Ronnie

Worried Life Blues (Live At The El Mocambo Tavern, Toronto / 1977 / Vinyl Only)
00:04:35
3.3

Richards, Keith




Watts, Charlie




Preston, Billy




Brown, Ollie


The Rolling Stones


Wyman, Bill




Stewart, Ian




Jagger, Mick




Wood, Ronnie

Little Red Rooster (Live At The El Mocambo Tavern, Toronto / 1977)
00:04:51
3.4

Richards, Keith




Watts, Charlie




Preston, Billy




Brown, Ollie


The Rolling Stones


Wyman, Bill




Stewart, Ian




Jagger, Mick




Wood, Ronnie

It's Only Rock 'N' Roll (But I Like It) (Live At The El Mocambo Tavern, Toronto / 1977)
00:04:55
3.5

Richards, Keith




Watts, Charlie




Preston, Billy




Brown, Ollie


The Rolling Stones


Wyman, Bill




Stewart, Ian




Jagger, Mick




Wood, Ronnie

Rip This Joint (Live At The El Mocambo Tavern, Toronto / 1977)
00:02:11
3.6

Richards, Keith




Watts, Charlie




Preston, Billy




Brown, Ollie


The Rolling Stones


Wyman, Bill




Stewart, Ian




Jagger, Mick




Wood, Ronnie

Brown Sugar (Live At The El Mocambo Tavern, Toronto / 1977)
00:03:25
3.7

Richards, Keith




Watts, Charlie




Preston, Billy




Brown, Ollie


The Rolling Stones


Wyman, Bill




Stewart, Ian




Jagger, Mick




Wood, Ronnie

Jumpin' Jack Flash (Live At The El Mocambo Tavern, Toronto / 1977 / Vinyl Only)
00:04:45
4.1

Richards, Keith




Watts, Charlie




Preston, Billy




Brown, Ollie


The Rolling Stones


Wyman, Bill




Stewart, Ian




Jagger, Mick




Wood, Ronnie

Melody (Live At The El Mocambo Tavern, Toronto / 1977 / Vinyl Only)
00:04:31
4.2

Richards, Keith




Watts, Charlie




Preston, Billy




Brown, Ollie


The Rolling Stones


Wyman, Bill




Stewart, Ian




Jagger, Mick




Wood, Ronnie

Luxury (Live At The El Mocambo Tavern, Toronto / 1977 / Vinyl Only)
00:05:15
4.3

Richards, Keith




Watts, Charlie




Preston, Billy




Brown, Ollie


The Rolling Stones


Wyman, Bill




Stewart, Ian




Jagger, Mick




Wood, Ronnie

Worried About You (Live At The El Mocambo Tavern, Toronto / 1977 / Vinyl Only)
00:07:57