Beschreibung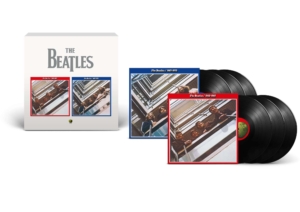 Die legendären Red & Bue Compilations der Beatles gehören seit fünfzig Jahren in jeden Plattenschrank und jedes CD-Regal.
Diese Neuauflage des »Red Album« (1962 – 1966) ist mit 12 neuen Songs ausgestattet; mit dabei sind einige von George Harrisons frühesten Songs sowie Beatles-Versionen von R&B- und Rock'n'Roll-Hits, die prägend für die Band waren. Die Neuauflage des »Blue Album« enthält mit 9 zusätzlichen Songs unter anderem auch »Now And Then« im Stereo- und Dolby Atmos Mix, eine Würdigung des vermutlich letzten und zuvor unveröffentlichten Liedes, das John Lennon für die Beatles geschrieben hat.
»Now And Then« stammt als ein Gesangs- und Klavier-Demo aus dem Nachlass John Lennons. Neu eingespielte Parts von Paul McCartney und Ringo Starr sowie Gitarrenaufnahmen aus den 90er-Jahren von George Harrison vervollständigen das emotionale Stück. Die nachträgliche Fertigstellung des Songs wurde erst mit der Technik der 2020er-Jahre möglich.
Tracks:
LP1
1 Side A: Love Me Do (2023 Mix)
2 Please Please Me (2023 Mix)
3 From Me To You (2023 Mix)
4 She Loves You (2023 Mix)
5 I Want To Hold Your Hand (2023 Mix)
6 All My Loving (2023 Mix)
7 Can't Buy Me Love (2023 Mix)
8 Side B: A Hard Day's Night (2023 Mix)
9 And I Love Her (2023 Mix)
10 Eight Days A Week(2023 Mix)
11 I Feel Fine(2023 Mix)
12 Ticket To Ride(2023 Mix)
13 Yesterday (2023 Mix)
LP2
1 Side C: Help! (2023 Mix)
2 You've Got To Hide Your Love Away (2023 Mix)
3 We Can Work It Out (2023 Mix) – From (2015 Mix)
4 Day Tripper (2023 Mix)
5 Drive My Car (2023 Mix)
6 Norwegian Wood (This Bird Has Flown) (2023 Mix)
7 Side D: Nowhere Man (2023 Mix)
8 Ichelle (2023 Mix)
9 In My Life (2023 Mix)
10 Girl (2023 Mix)
11 Paperback Writer (2022 Mix)
12 Eleanor Rigby (2022 Mix)
13 Yellow Submarine (2022 Mix)
LP3
1 Side E: I Saw Her Standing There (2023 Mix)
2 Twist And Shout (2023 Mix)
3 This Boy (2023 Mix)
4 Roll Over Beethoven (2023 Mix)
5 You Really Got A Hold On Me (2023 Mix)
6 You Can't Do That (2023 Mix)
7 Side F: If I Needed Someone (2023 Mix)
8 Got To Get You Into My Life (2022 Mix)
9 I'm Only Sleeping (2022 Mix)
10 Taxman (2022 Mix)
11 Here, There And Everywhere (2022 Mix)
12 Tomorrow Never Knows (2022 Mix)
LP4
1 Side A: Strawberry Fields Forever (2015 Mix) From (2017 Mix)
2 Penny Lane (2017 Mix)
3 Sgt. Pepper's Lonely Hearts Club Band (2017 Mix)
4 With A Little Help From My Friends (2017 Mix)
5 Lucy In The Sky With Diamonds (2017 Mix)
6 A Day In The Life (2017 Mix)
7 All You Need Is Love (2015 Mix)
8 Side B: I Am The Walrus (2023 Mix)
9 Hello, Goodbye (2015 Mix)
10 The Fool On The Hill (2023 Mix)
11 Magical Mystery Tour (2023 Mix)
12 Lady Madonna (2015 Mix) From (2023 Mix)
13 Hey Jude (2015 Mix)
14 Revolution (2023 Mix)
LP5
1 Side C: Back In The U.s.s.r. (2018 Mix)
2 While My Guitar Gently Weeps (2018 Mix)
3 Ob-la-di, Ob-la-da (2018 Mix)
4 Get Back (2015 Mix)
5 Don't Let Me Down (2021 Mix)
6 The Ballad Of John And Yoko (2015 Mix)
7 Old Brown Shoe (2023 Mix)
8 Side D: Here Comes The Sun (2019 Mix)
9 Come Together (2019 Mix)
10 Something (2019 Mix)
11 Octopus's Garden (2019 Mix)
12 Let It Be (2015 Mix) From (2021 Mix)
13 Across The Universe (2021 Mix)
14 The Long And Winding Road (2021 Mix)
LP6
1 Side E: Now And Then (2023)
2 Blackbird (2018 Mix)
3 Dear Prudence (2018 Mix)
4 Glass Onion (2018 Mix)
5 Within You Without You (2017 Mix)
6 Side F: Hey Bulldog (2023 Mix)
7 Oh! Darling (2019 Mix)
8 I Me Mine (2021 Mix)
9 I Want You (She's So Heavy) (2019 Mix)