Beschreibung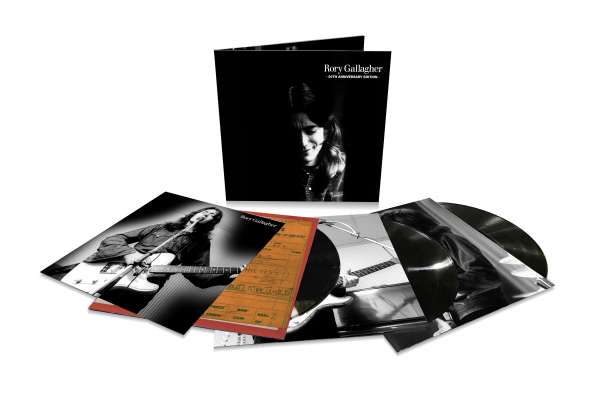 Rory Gallaghers gleichnamiges Debüt-Soloalbum wird 2021 50 Jahre alt. Dieses besondere Jubiläum feiert Universal mit drei verschiedenen 50th Anniversary Editions – auf Doppel-CD, drei LPs sowie als Deluxe Boxset mit vier CDs plus DVD.
»Rory Gallagher« erschien ursprünglich 1971 bei Polydor. Es war das erste Soloalbum des irischen Bluesrockers, nachdem er ein Jahr zuvor bei der Band Taste ausgestiegen war. Im Frühling 1971 nahm Gallagher die Platte zusammen mit dem Schlagzeuger Wilgar Campbell und Gerry McAvoy am Bass in den Londoner Advision Studios auf. In zwei Songs ist außerdem Vincent Crane am Klavier zu hören.
Insgesamt zehn Songs, die alle aus Gallaghers Feder stammten, schafften es schließlich auf das Album. Die Band perfektionierte sie bis zu den Aufnahmen in einem Proberaum im Keller eines Musikgeschäfts im Londoner Stadtteil Fulham. »Rory Gallagher« erreichte in Großbritannien Platz 32 der Charts.
Die 50th Anniversary Editions auf Doppel-CD und Doppel-Vinyl enthalten einen neuen Stereo-Mix des Originalalbums inklusive 18 unveröffentlichter, alternativer Takes.
Das Deluxe Boxset mit vier CDs und DVD enthält neben dem neuen Mix 30 bisher unveröffentlichte, alternative Takes, ein »BBC Radio John Peel Sunday Concert« mit sechs Liedern aus dem Jahr 1971 und vier »BBC Radio Sounds of the Seventies«-Session-Tracks aus dem Jahr 1971, die alle in den Abbey Road Studios gemastert wurden. Die Box enthält eine bisher unveröffentlichte 50-minütige DVD von Rorys erstem Solokonzert für die Fernsehshow »Pop Deux«, ein Poster und ein 32-seitiges gebundenes Buch mit seltenen/ungesehenen Fotos des britischen Rock-Fotografen Barrie Wentzell und exklusiven Cover-Notizen, geschrieben von Rorys Bruder und Manager Donal Gallagher und seinem langjährigen Bassisten Gerry McAvoy. Zudem gibt es Erinnerungsstücke aus der Albumaufnahme und handgeschriebene Songtexte von Rory.
Tracks:
1.1
Gallagher, Rory


McAvoy, Gerry




Campbell, Wilgar

Laundromat (50th Anniversary Edition Mix)
00:04:38
1.2
Gallagher, Rory


McAvoy, Gerry




Campbell, Wilgar

Just The Smile (50th Anniversary Edition Mix)
00:03:40
1.3
Gallagher, Rory


McAvoy, Gerry




Campbell, Wilgar

I Fall Apart (50th Anniversary Edition Mix)
00:05:11
1.4
Gallagher, Rory


Crane, Vincent

Wave Myself Goodbye (50th Anniversary Edition Mix)
00:03:30
1.5
Gallagher, Rory


McAvoy, Gerry




Campbell, Wilgar

Hands Up (50th Anniversary Edition Mix)
00:05:25
1.6
Gallagher, Rory


McAvoy, Gerry




Campbell, Wilgar

Sinner Boy (50th Anniversary Edition Mix)
00:05:05
1.7
Gallagher, Rory


McAvoy, Gerry




Campbell, Wilgar

For The Last Time (50th Anniversary Edition Mix)
00:06:36
1.8
Gallagher, Rory


McAvoy, Gerry




Campbell, Wilgar

It's You (50th Anniversary Edition Mix)
00:02:39
1.9
Gallagher, Rory


Crane, Vincent

I'm Not Surprised (50th Anniversary Edition Mix)
00:03:35
1.10
Gallagher, Rory


McAvoy, Gerry




Campbell, Wilgar

Can't Believe It's True (50th Anniversary Edition Mix)
00:07:17
2.1
Gallagher, Rory


McAvoy, Gerry




Campbell, Wilgar

Gypsy Woman (Tangerine Studio Session)
00:04:01
2.2
Gallagher, Rory


McAvoy, Gerry




Campbell, Wilgar

It Takes Time (Tangerine Studio Session)
00:03:35
2.3
Gallagher, Rory


McAvoy, Gerry




Campbell, Wilgar

I Fall Apart (Tangerine Studio Session)
00:04:46
2.4
Gallagher, Rory


McAvoy, Gerry




Campbell, Wilgar

At The Bottom (Alternate Take 3)
00:03:23
2.5
Gallagher, Rory


McAvoy, Gerry




Campbell, Wilgar

At The Bottom (Alternate Take 4)
00:02:48
2.6
Gallagher, Rory


McAvoy, Gerry




Campbell, Wilgar

Advision Jam
00:03:45
2.7
Gallagher, Rory


McAvoy, Gerry




Campbell, Wilgar

Laundromat (Alternate Take 1)
00:03:33
2.8
Gallagher, Rory


McAvoy, Gerry




Campbell, Wilgar

Just The Smile (Alternate Take 1)
00:03:29
2.9
Gallagher, Rory


Crane, Vincent

Wave Myself Goodbye (Alternate Take 2)
00:04:47
2.10
Gallagher, Rory


McAvoy, Gerry




Campbell, Wilgar

Hands Up (Alternate Take 2)
00:05:52
3.1
Gallagher, Rory


McAvoy, Gerry




Campbell, Wilgar

Sinner Boy (Alternate Take 3)
00:05:23
3.2
Gallagher, Rory


McAvoy, Gerry




Campbell, Wilgar

For The Last Time (Alternate Take 1)
00:05:03
3.3
Gallagher, Rory


McAvoy, Gerry




Campbell, Wilgar

It's You (Alternate Take 2)
00:02:42
3.4
Gallagher, Rory


McAvoy, Gerry




Campbell, Wilgar

I'm Not Suprised (Alternate Take 1)
00:04:21
3.5
Gallagher, Rory


McAvoy, Gerry




Campbell, Wilgar

For The Last Time (Live On BBC "Sounds Of The Seventies" / 1971)
00:04:07
3.6
Gallagher, Rory


McAvoy, Gerry




Campbell, Wilgar

Laundromat (Live On BBC "Sounds Of The Seventies" / 1971)
00:03:37
3.7
Gallagher, Rory


McAvoy, Gerry




Campbell, Wilgar

It Takes Time (Live On BBC "Sounds Of The Seventies" / 1971)
00:04:22
3.8
Gallagher, Rory


McAvoy, Gerry




Campbell, Wilgar

I Fall Apart (Live On BBC "Sounds Of The Seventies" / 1971)
00:03:44